As more people begin to work from home — both as a recent trend and because of the current pandemic we're facing — we thought it appropriate to give people advice as to how they can smoothly make that transition to remote work. That's why, in last week's post, we gave you some tips as to how to set up the optimal amount of lighting in your home office.
This week, we're going to move from the how to set up your lighting to why getting the right lighting is so important. We briefly touched on it in the last post, but now we're going to get into the nitty gritty.
The Negative Effects Of Poor Lighting
There's more at stake when considering the lighting in your home office than you realize. Here are just some of the negative effects you could experience when you have poor light quality while you're at work:
Strained eyes:

While staring at a screen all day is taxing for anyone, that strain is especially enhanced by poor office lighting.

Poor sleep quality:

Our bodies are governed by an internal clock, triggered by the natural lighting of the sun. Having lighting that replicates this type of lighting during daytime working hours can help improve quality of sleep.

Headaches and migraines:

Overly bright lighting over your head is a common source of headaches and migraines for many workers. This can greatly affect productivity on a day-to-day basis.
How To Combat Poor Lighting
However, there is good news. One of the great things about working from home is that you are in total control of the look, feel, and lighting of your office! Besides making the most of your natural lighting sources, here are two of the most important things you can do to combat the effects of poor lighting:
Understand How The Color Of Light Affects You
To measure the color of light, scientists use the Kelvin scale. Color temperatures on the low end of the Kelvin scale are considered warmer (redder), while temperatures on the higher end are considered cooler (bluer).
When choosing bulbs for your home office, you'll want bulbs that are on the cooler side. This can help you create a clean, productive atmosphere. You'll want something in between 3,500 – 4,000k for areas where you need a higher degree of concentration.
However, keep in mind that excessive exposure to overly cool lighting can also negatively impact your mood, sleep pattern, and overall health. This leads us to our second point: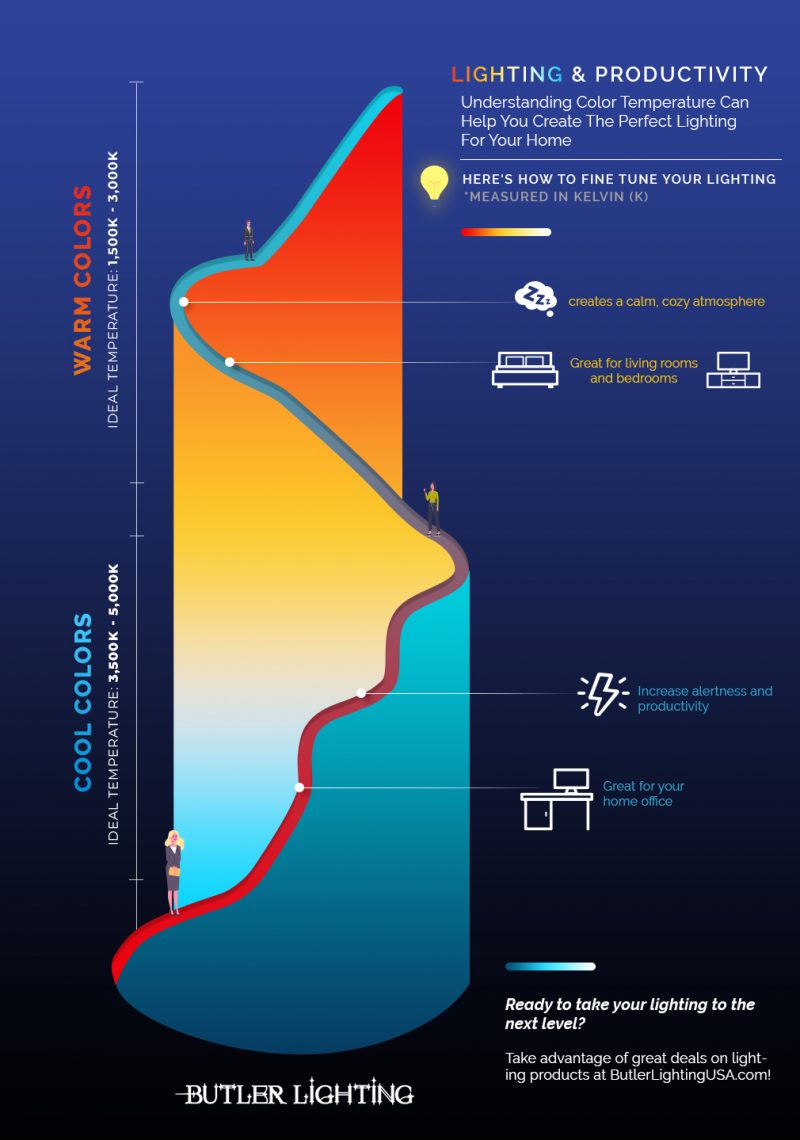 Choose Lighting Options That Give You More Control
By choosing lighting options that allow more control and provide the optimal lighting you need for various situations, the best thing you can do is give yourself flexible options. Individual lights such as lamps are great for providing specific task lighting, and can be turned on and off at will.
At Butler Lighting, we also offer WiZ smart bulbs. These unique bulbs allow you to take absolute control over your lights. With over 64,000 shades of white and 16 million colors, you'll be able to adjust your lighting to the perfect amount no matter the time of day or night. They can even be custom mapped to your favorite modes for each room.
Choose Butler Lighting For All Your Home Office Lighting Needs
From top-quality light fixtures to specialty bulbs, Butler Lighting's massive inventory can meet all your aesthetic and illumination needs at prices that don't break the bank.
Shop our online inventory and fill your home office with the light you need to stay productive and healthy, whether you're working remotely for a short period of time or permanently.